When it comes to managing a construction project, the right software can make all the difference. Construction management software helps construction teams with complex coordination and processes essential for the success of a project.
With so many options available on the market, it's hard to know which solution is ideal for your needs – but fear not! In this post, you will gain tons of insight into choosing the best software based on features, flexibility, and customization options, as well as tools to help create efficient bidding strategies.
We hope that by understanding these key elements in detail, you can identify one (or more) product(s) that fits your workflow & budget perfectly!
Choosing the right Construction Management Software
Here are some factors that will help you narrow down the perfect Construction Management Software for you:
1. Identify the needs of your business and decide which features are essential
In today's digital age, construction businesses rely heavily on the efficiency and effectiveness of their management software. But with so many options available, deciding on the best construction management software can be an overwhelming task.
Each company has its unique structure, management, and work module. Before considering construction management software, you should evaluate the needs of your interiors and construction business and determine which features are essential for improving workflow, ensuring communication among team members, and optimizing project management.
2. Research different software programs to find one that fits your needs
Once you have evaluated the unique needs of your interior or construction company for project management, it is time to research different software programs that can meet those criteria.
To ensure you find the best program, compare a few options to see which fits your company's needs and budget. Consider the program's user-friendliness, its ability to integrate with other applications or platforms you may already be using, and its reporting capabilities.
You should also evaluate the cost of the software and any associated fees that come along with it. By taking the time to do your research and carefully evaluate software options, you can make an informed decision and ultimately choose software that will help your construction business reach its fullest potential.
3. Compare Pricing and Features
Effective project management is critical for achieving your goals within the desired timeframe and budget. Many software options are available on the market to help with project management, but choosing the right one can be a challenging task.
When evaluating software, you need to consider the features and pricing options carefully. Some project management software may offer robust features but come with hefty price tags, while others may have limited features but be more affordable.
So, it's essential to evaluate your team's needs and available resources before choosing a project management software. By analyzing and comparing features and pricing options, you can select software that provides optimal performance and ensures a successful project outcome but at a price that won't break the bank.
4. Research Scalability and Performance
As construction projects increase in complexity and size, project managers need reliable and efficient software to manage every aspect of their work. Choosing the right construction project management software can make all the difference in the success of the project.
One of the most critical features to consider when selecting a software solution is scalability and performance. Scalability refers to the software's ability to handle an increasing number of users and workload, while performance refers to its speed and responsiveness.
When conducting research on software options, it's crucial to prioritize solutions that can grow and adapt to your business's changing needs. Focusing on scalability and performance allows project managers to streamline their workflows, increase efficiency, and ultimately save valuable time and resources.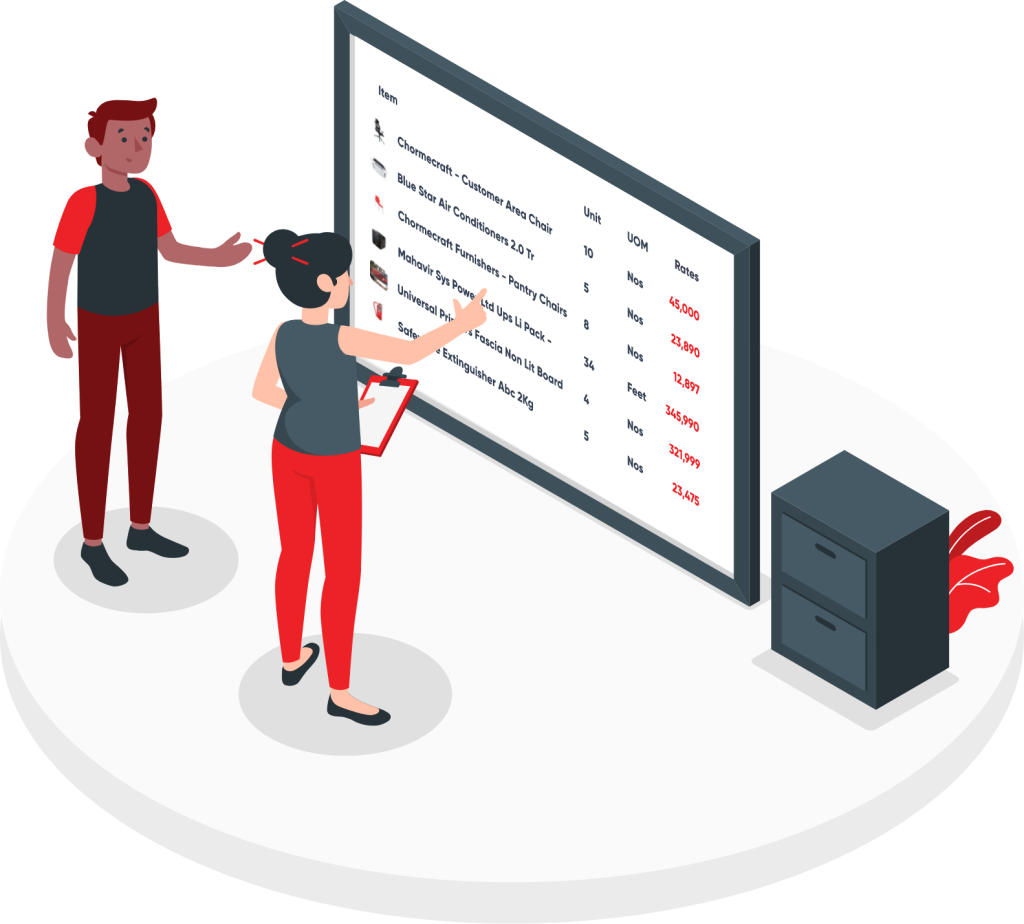 RDash offers you Unlimited Users without any additional cost. Schedule a FREE Demo Call with our experts to learn more.
5. Read Reviews from other users to understand the Pros and Cons of each Software
To truly understand the effectiveness of a particular software, it is vital to read reviews from other users from your industry. By doing so, we can gain insight into the pros and cons of each software, as well as how it has helped them manage their projects.
By taking advantage of these user reviews, we can make informed decisions and select the software best suited for our specific project needs. It is crucial to keep in mind that not every program or software will work for every project, so conducting thorough research is critical in finding the perfect fit.
6. Availability of Guest Access and Storage Capabilities
Construction management software has come a long way in recent years, and now there are more features available than ever before. One such feature that is of particular importance to many construction projects is guest access and storage capabilities.
With guest access, important stakeholders and project participants can be brought into the software without purchasing a license, saving a significant amount of money. Guest access enables stakeholders, such as clients or subcontractors, to securely view and contribute to the project's progress from anywhere.
As for storage capabilities, having ample space to store and share project documents and files is critical to keeping everything organized and easily accessible. These features can make a big difference in the success of a construction project, and it's important to choose software that offers them.
RDash offers you Unlimited Storage without any additional cost. Schedule a FREE Demo Call with our experts to learn more.
7. Consider Integration with other Systems
Having a well-integrated system is essential for businesses to operate efficiently and effectively. Incorporating other systems, such as accounting, designing, and other micromanagement programs, can provide a seamless workflow, minimizing the chances of errors and lost data.
Integration can speed up the decision-making process, automate specific tasks, and improve interdepartmental collaboration.
For instance, when invoicing clients, an integrated accounting system would streamline invoices and expenses, minimizing the possibility of errors. On the other hand, integrating project management software enables real-time tracking of time and resources allocated, allowing for informed decisions on resource allocation.
In conclusion, businesses should consider the benefits of integrating software applications with their systems.
8. Explore Options for Customization
When it comes to project management software, there are endless options available to suit your needs. But what if you want to take it a step further and customize the software to fit your specific requirements?
Well, the good news is that many project management software providers offer customization options, giving you the freedom to tailor the software to your business processes.
From creating custom workflows to modifying fields and data structures, the possibilities are limitless. So, don't settle for a one-size-fits-all solution. Take the time to explore the customization options and find the perfect project management software that will elevate your team's productivity and efficiency.
9. Efficient Security Features
Project management software has revolutionized how construction companies work, making team collaboration seamless and efficient. However, as with any technology, security concerns must be taken seriously.
Proper security requirements are a vital aspect of any project management software to ensure that confidential information and client data remain safe. These requirements include controlling access to sensitive data, implementing strong password policies, and ensuring regular updates with the latest security patches.
Without these necessary precautions, the software could become a breeding ground for cybercriminals to steal and exploit sensitive information.
Therefore, selecting the right project management software with proper security measures should be a top priority for any organization.
RDash offers you Enterprise Grade Security. Schedule a FREE Demo Call with our experts to learn more.
10. Ease of Use
In today's construction industry, where every project demands precision and efficiency, the ease of use of construction management software is a crucial factor to consider.
With the latest advancements in technology, using a software program that is complex and difficult to navigate only adds to the already complex nature of construction tasks.
A user-friendly program, on the other hand, allows construction managers to focus on their primary task – managing construction projects. Fortunately, some software vendors offer construction management software with an easy-to-use interface that doesn't compromise on features and functionalities.
This kind of construction management software provides an intuitive platform that makes project management smoother, quicker, and more efficient, allowing construction professionals to complete projects on time and within budget.
11. Mobile Device Adaptability
The interiors and construction industry is always on the move, and having the ability to manage projects while on the go is essential.
When choosing a construction management software, mobile device adaptability should be a criterion. With the use of this technology, construction managers can now have access to their software wherever they are.
This technology empowers them to communicate with their team members in real-time, track project progress, and make informed decisions. Mobile device adaptability also plays a critical role in safety, ensuring workers can receive important safety alerts or report potential hazards directly from their phones.
The integration of this technology into construction management software has revolutionized the way interior and construction projects are managed and has made the job a whole lot easier for those working in the industry.
12. Ask for a Demonstration and Trial Period before Deciding on a Software
Before making any decisions on a construction management software, it's essential to ask for a demonstration and trial period. A demonstration can give a walkthrough of the program's features, functions, and capabilities.
However, a trial period is where you really get to see if the software is the right fit for your business. Trial runs allow you to test the program's user-friendliness, accuracy, and efficiency.
Organizing these trial runs can help to give meaningful feedback to the software company and help make informed decisions on whether the program is worth investing in.
So, if you're considering purchasing construction software, be sure to ask for both a demonstration and a trial period to ensure it's the right fit for your company.
RDash: The New age Smart Construction Management System
RDash is a game-changer in the interiors and construction industry. With its latest features, such as Recce, Design, BOQ, Orders, and Work Progress, it streamlines the whole construction process from start to finish.
But wait, there's more!
RDash also includes features for snag identification and finance management. What's even better is its ease of use, which is something that is highly sought after in the interiors and construction industry.
So, if you're looking for software that can do it all without breaking the bank, RDash is the way to go.
Conclusion: Choosing the right Construction Management Software
As cities continue to expand, so does the demand for interior and construction projects. Be it residential or commercial, urbanization means more buildings at a faster rate.
Meeting deadlines, staying within budgets, and delivering results is a constant challenges for interior and construction companies juggling with multiple projects. That's where construction management software comes in. These powerful tools help companies stay on top of every aspect of their projects, from scheduling and budgeting to materials and labor.
But with so many options out there, it's essential to choose wisely to ensure that the software you choose is an asset and not a hindrance. By selecting construction management software that functions like a dream, stays on budget, and speeds up the work process, interior and construction companies can stay ahead of the curve in a highly competitive field.
The above-mentioned factors in the blog will help clients narrow down the perfect software to help them easily achieve their goals.
Schedule a Demo with our experts to know more about how RDash can help you in streamlining your interior and construction projects